Massachusetts Pushing The Boundaries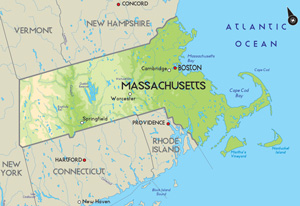 The USA has seen a big change in attitude to casino gambling in recent years and Massachusetts is one state that's pushing ahead. There are a few venues to choose from in the Bay State with two very grand options in the process of being built. MGM one of the biggest names in casino entertainment is building a resort in Springfield at the cost of almost $1billion. Due to be completed in 2018 it looks set to rival any casino. The speed at which Massachusetts is moving forward rivals any state. All this has happened since 2011 with a new law coming onto the books. Two previous attempts to introduce legislation in 2008 and 2009 failed and it looked like the state would stay casino free. The issue for state legislators was that resident where just crossing state lines and gambling anyway so why lose the revenue.
Not Everybody Is Happy But It Looks Like It's Here To Stay
Massachusetts has many voices against all forms of gambling. Despite being an early adopter of the state lottery gambling did not get a foothold in the state. There are many organizations that have fought the lottery since its introduction. Siting many studies that it is actually the worst form of gambling with more cases of problem gambling than all other forms. It also hit the low income sector hardest. But tax dollars slipping over state lines got the better of the state law makers in the end. Massachusetts has very convoluted laws but it looks like regulated gambling will grow.
1
.
$800

BONUS
150+

GAMES
50+

MOBILE
97.11%

PAYOUT
2
.
$2,500

BONUS
150+

GAMES
50+

MOBILE
97.11%

PAYOUT
3
.
$8,888

BONUS
120+

GAMES
25+

MOBILE
98.61%

PAYOUT
4
.
$1,000

BONUS
200+

GAMES
50+

MOBILE
97.84%

PAYOUT
The Internet Has A Chance
Massachusetts looks like it is a prime candidate for regulation of internet gambling. The head of the state gambling commission is in favour of online casinos. Wanting to get in on the ground level with state run online casinos. The CATO Institute is all for internet gambling rightly stating that it is almost impossible to stop people from gambling online. They also point out the environment is far more preferable than land-based casinos. It will be an uphill struggle mind you. The state has only just got used to the idea of having brick and mortar venues. Massachusetts is known as a thinking state it will eventually concede that online casinos are not going away and will regulate.
In The Mean Time
While you wait for your state Senate to come around there are plenty of online venues to choose from. A few of the top global brands got cold feet and stopped taking US customers after the indictments surrounding online poker sites. All that did however was open the door for the rest. The US market is worth millions and it was not going to stop most online casinos from cashing in. Unfortunately the confusion surrounding legality and licensing has given an opportunity for criminal operations. A lot of US players may not realize that there are some very strong governing bodies that regulate the world's online casinos. This had led some to getting taken for their cash. All reputable online casinos will have a license issued by one of the following bodies. The tribal governing body of the Kahnnawake Territories has rapidly gained a favorable status as a regulator of online casinos facing the US. The island state of Malta has been in the industry for many years and its gaming authority has teeth. The Isle of Man also backs up its rules.
Having A License Is Not All
Being a US citizen and gambling online has other problems attached. Thanks to the crazy federal banking laws casinos now have to have third party clearing houses for US customers. As part of your due diligence it's worth checking into how your money will be moved about. Timescales for deposit and withdrawal can vary significantly from site to site. While not fool proof a brands longevity is a good indicator to its legitimacy. This industry moves so fast even straight casinos have to work very hard to stay afloat. Crooked ones sink fast. If a casino has over 5 years under its belt it's probably a safe bet. Research is a critical tool in finding a good online casino. Some of the best research resources are forums and reviews. Yes a lot of posts on forums are whining losers claiming foul play. Once you've seen a few you can spot them. However if a lot of people are saying the same thing then it's worth thinking about. Customer services at online casinos are a great way to gauge what your experience might be. Ask them some hard questions. Probe for answers if you don't get the right ones walk away. There are plenty more fish in this sea. Lobby your house get internet gambling regulated its far better to have local control.