Maryland Is A Fast Mover When It Comes To Casinos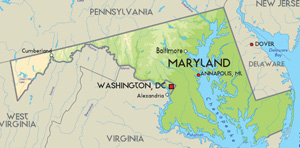 From a constitutional referendum in 2008 allowing slots at race tracks to 5 full blown casinos and one more about to open is pretty quick when it comes to any state. Maryland came out of the blocks running and seems to be gathering pace. The MGM National Harbor Resort looks like it will be fantastic. All this has happened in such a short time table games were only allowed in 2012 Maryland has been bitten by the casino bug and is in love. There is a very good reason Maryland likes casinos that's the 20% rake that goes to education. Over $ 1 billion dollars so far have gone to the Education Trust Fund that's a lot of green reasons for liking casinos. Not to mention the thousands of jobs created in the state directly and indirectly. Communities are more attractive to businesses and so on. It hasn't always been roses in this love affair however.
Gambling in Maryland Had Some Hiccups
In 1951 a County State Senator reported being offered $30 000 bribe to support gambling. 1963 another stated he was offered $300 to be out of the room when the vote on an anti-slots bill came up. A few years later Spiro Agnew claimed he was offered $200 000 to support gambling when he was running for governor. This was the era for mob involvement in gambling so it's not an exception but it proved to be a sticky point. Odd laws banning river boat gambling because of slots being placed on piers that started in Virginia but the buildings that had the slots were over a part of the Potomac River which placed them in Maryland. Public opinion was turning against slot machines as early as the mid-fifties with several high profile articles in the Washington post claiming corruption and the encouragement of minors to gamble. These articles led to a grand jury hearing which agreed with just about everything in the articles. It caused a shift in power within the county commissioner's office. This rocky start continued into the sixties to lead to an eventual ban. Not without many legal battles however.
1
.
$800

BONUS
150+

GAMES
50+

MOBILE
97.11%

PAYOUT
2
.
$2,500

BONUS
150+

GAMES
50+

MOBILE
97.11%

PAYOUT
3
.
$8,888

BONUS
120+

GAMES
25+

MOBILE
98.61%

PAYOUT
4
.
$1,000

BONUS
200+

GAMES
50+

MOBILE
97.84%

PAYOUT
Then Along Came The Lottery
Front runners again Maryland saw a state lottery in 1972 one of the first to introduce one. All this did was spark the debate for slots again. Gambling in the form of a lottery was getting a lot of flak with many stories of college fund money getting spent on instant lottery tickets. It did not stop the lobby for slots. Law makers have been split on the subject for many years until the watershed in 2008. Then the gates opened and here we are. There are still many against all forms of gambling within the state and point to studies correlating crime and deprivation to the rise in slots usage. Time will tell if this is the case or not. But judging by the money being spent on the venues it looks like casinos are here to stay in Maryland.
The Internet Is Next Right?
There seems to be no plans at the moment to go the way of Delaware, Nevada and New Jersey. With land-based casinos only just getting a foothold it seems unlikely that they would want internet rivalry as well. The fact that the state is relatively small doesn't help either. A player sharing deal with a neighboring state would probably be the way to go. The cut for the state would likely be a stopping point however. If the state cut was the same as land-based it would be financially unviable probably. So it seems on the face of it the change is not coming anytime soon.
There Are A Multitude Of Offshore Choices
The law is a little confusing in Maryland there is no statute that forbids online casinos. But there is no regulation of it either. Nobody has ever been charged for gambling online in Maryland. There are hundreds of sites pointing toward the east coast of the USA. Because there is no regulatory body in the state you need to be careful if you wish to play online. There are regulatory bodies around the world that give legitimate licenses to online casinos. Not just that they actually enforce their rules too. As a US player you will most likely be seeing the Kahnnewake Territories as the license issuer. Canadian based this tribal body has not been in the industry as long as some but it is gaining a solid reputation. If you see a casino with a Maltese, Gibraltar or Isle of Man certification you know they are regulated by bodies with a long standing in an industry that is well regulated. You are cleaver people in Maine due diligence is the key.