So Much To Do In The State Of Maine Casinos Don't Rank That Highly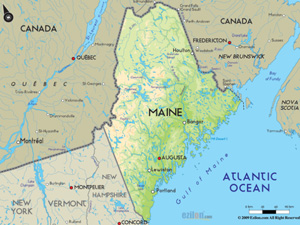 With so many healthy activities going on in the state of Maine it comes as no surprise that there's not a lot of casino action. There are a couple of venues the Oxford Casino and the Hollywood Casino and Raceway and all your favorite table games and selection of slots are available. Both venues as casinos are relatively new but already have contributed large sums of revenue to the state. The tourist industry is huge in Maine but mostly revolves around the wonderful outdoor activities on offer all year round. It remains to be seen if the gambling industry will have an impact on that. There seems to be no real push to expand the industry Maine looks happy with the status quo.
Maine Does Like A Flutter Though
Since the 1950's Maine residents have been avid visitors to the harness racing tracks. Scarborough Downs has been in action 66 years straight. Harness racing may not be the most popular form of horse racing but Maine resident have been placing par-mutual bets on it for years. Dog racing is banned in the state so if you love watching greyhounds you need to look elsewhere. The state lottery was introduced in 1974 and is a very popular form of gambling. Two native tribes have been lobbying to allow them to turn their high stakes bingo halls into full blown casinos. Home run card games are legal and popular in the state of Maine as long as nobody profits from running them there is no issue.
1
.
$800

BONUS
150+

GAMES
50+

MOBILE
97.11%

PAYOUT
2
.
$2,500

BONUS
150+

GAMES
50+

MOBILE
97.11%

PAYOUT
3
.
$8,888

BONUS
120+

GAMES
25+

MOBILE
98.61%

PAYOUT
4
.
$1,000

BONUS
200+

GAMES
50+

MOBILE
97.84%

PAYOUT
The Internet Is Still Undecided
Maine has been touted as one of the next states that will regulate online gambling. As revenue continues to flow into state coffers from the land-based casinos, legislators may well look to the possibility of regulating online poker and casinos. The problem could be that there may not be the demand. One route could be to team up with other states and share players but so far there doesn't seem to be much progress in this area. It's not specifically written into the statutes that gambling on the internet is illegal in Maine. However statements have been made that it is already covered in law. That being said to date nobody has ever been prosecuted for gambling online in the beautiful New England state of Maine. That doesn't mean they won't but it's unlikely.
Many U.S. Facing Casino Are Still Out There
If you don't want to travel to the brick and mortar venues and are prepared to break the law then there are plenty of online casinos willing to accommodate you. Despite the very high profile indictments and other states domain name seizures the number of online casinos accepting players from Maine and other states is growing. Some very big names in the business have taken the safe route and blocked U.S. citizens. However all this has done is free up the market for the rest. It is a scramble for a piece of a very lucrative market and hundreds of casino brands are in the mix
With So Many Choices Care Is Needed
Unfortunately criminals are taking advantage over the ludicrous legal status of online casinos. U.S residents have become targets of the unscrupulous. Many fall into the trap thinking that because there is no regulation in the U.S. that they have to take their chances with unlicensed casinos. Don't think that way. The rest of the world has a very well structured and regulated industry. The most common regulatory board you will see as U.S. customers, will be the Kahnnawake Territories. This tribal run authority based in Canada has proved to be a strong body looking out for the interests of players. In a short space of time they have quickly built a good reputation. Other government's institutions that have good track records are Gibraltar, Malta, the Isle of Man and Alderney. All of these bodies have been regulating online casinos for a long time now. Regular audits are taken and licenses are revoked for breaches of their regulations. So when choosing a casino it is imperative that you choose one that is regulated by a respected body. A good tip is to check forums and reviews while a lot of chatter can be bad losers venting steam, if a name keeps popping up for the same thing it's worth noting. Establishing a name in the online gambling world takes a few years. In such a fast paced industry the bad ones don't stick around long. If a brand has been active for more than five years in can be viewed as safe. Do your own research and test the waters first, losing a small deposit is far less painful than jumping in feet first.