The Sunflower State Has Options For Gamblers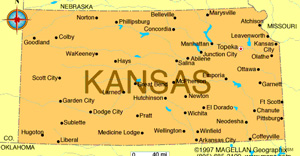 Kansas is kind of middle of the road when it comes to gambling options. Some would say that's appropriate for the state that's as close to the middle of the U.S. as it can be. There are 8 casinos currently in business within stateliness and one more has been approved and is currently being built. Three state owned casinos and five tribal owned. It's a little strange as there are only four tribes officially recognized in Kansas the fifth casino is run by the Wayandotte Nation of Oklahoma. Still ours is not to wonder why. All of the casinos have had a struggle to get up and running but they now seem to be on track. The usual casino games are all offered and the venues are all open 24/7. The minimum age to gamble in Kansas is 21 and the laws seem to be strictly enforced. The size and quality of the casinos ranges greatly. Some are just gaming halls while others like the Hollywood Casino at the Kansas Speedway are more entertainment inspired. You can watch a race then have a few hands of blackjack or Pai-Gow if the Asian style game is for you.
No Internet Gambling Allowed
There is nothing written into Kansas state law that specifically mentions the internet and gambling on it. However the law is very loosely written and it basically states that all betting is illegal if it's not regulated in statute. So read into it what you will. Gambling in general within the state of Kanas is not looked upon favorably by the legislature. Local referendums however saw the people vote in casinos so it's a safe bet to assume that they would allowed regulated online casinos and poker rooms. But it really is not looking like Kansas will be having a vote on the issue anytime soon. After all it took the state until 2007 to put up an act to the legislature for the four casinos. That didn't get though straight away as the Attorney General's Office challenged the constitutionality of the act at both the county level and at the state Supreme Court. So unfortunately the internet may well be one step to far. However who knows what's round the corner. Kansans are a determined bunch so maybe if you lobby hard enough things will change. The tax dollars that go offshore has to figure in to it some way or another.
1
.
$800

BONUS
150+

GAMES
50+

MOBILE
97.11%

PAYOUT
2
.
$2,500

BONUS
150+

GAMES
50+

MOBILE
97.11%

PAYOUT
3
.
$8,888

BONUS
120+

GAMES
25+

MOBILE
98.61%

PAYOUT
4
.
$1,000

BONUS
200+

GAMES
50+

MOBILE
97.84%

PAYOUT
Kansas Gambling Has Had Issues
The race tracks of Kansas have had a rocky road from the start 1989 saw the opening of Woodlands Racetrack Kansas City first as a dog track then a horse racing course was added. Followed by Wichita Greyhound Park. Both tracks have seen considerable hardship over the years and reduced racing cards to cut costs hit hard. Camptown Greyhound Park shut six months after it opened. Legislation was submitted to amend the state constitution to allow slots at the tracks but it failed miserably. All race tracks have subsequently closed. Legislation has been put forward many times to allow for greater scope to the gambling industry in Kansas but has been consistently shot down. It seems this is it folks.
Online Casinos Don't Care They Will Sign You Up
Across America millions of citizens are breaking laws daily by playing at online casinos that are not regulated in the U.S. The fact of the matter is that while there have been some high profile indictments of online poker sites, there are casino brands that still accept U.S. customers. Admittedly not as many but still in the hundreds. If you do choose to gamble illicitly and you would not be alone be careful. Due to the uncertainty of the U.S legal standpoint there are many rogue casinos springing up trying to take advantage of unsuspecting U.S citizens. There may not be a U.S. regulatory body but the rest of the world has an established industry with very well respected authorities issuing licenses. The majority of online casinos that still accept U.S customers are regulated by the Kahnnawake Territories. Relatively new to the industry they have however quickly attained a trustworthy reputation. The island of Malta has a world renowned board and if a casino has a license from them you know they will be audited and checks and balances are in place. The Isle of Man and Alderney both have good reputations as well.
Do Your Research
Visit forums and review sites at lot of information about a casino can be gleaned. There is no smoke without fire as they say so if there's a lot of chatter about one site it's probably got something to it. Look for casinos that have been in business continually for at least 5 years. Criminal entities just don't stay the course.