Iowa Likes Casinos – Last Count 19 – 25 Years And Still Growing Stronger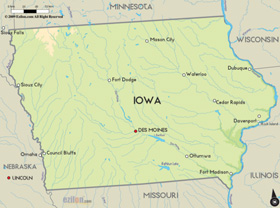 Since 1991 when the first river boat casinos in Iowa lowered their gangplanks and let the punters onboard, there hasn't been a year without either a new vote or a new casino opening. Iowans don't just like casinos they love them. Following state legislation to allow river boat casinos in 1989, 1991 saw the first operation open in Dubuque's Ice Harbor and it was called the Casino Bello. It was replaced soon after with the Diamond Jo. This has evolved into a massive venture that bring visitors in by the thousands. There's even a 36 lane bowling alley on site. Iowa has a very pragmatic approach to gambling you only have to look at their gaming association's slogan to know that. Providing economic development through entertainment. So it sees as long as the money flows into the state coffers there's no problem. It's not quite open house for every new development there is a referendum. True to the American way it's ultimately up to the people in each county to decide want they want. Some have turned down casinos wanting to open so democracy works in Iowa.
It's A Forward Thinking State For Sure
The Iowa Gaming Association work hard to promote the benefits to the community that come from the gambling industry. It's a very P.C. way of doing things and the fact that it's called gaming and not gambling may seem a little deliberate but the figures do speak for themselves. Stats like $2.5 billion into the state economy. 16 000 jobs with around $742 million in income. $726 million in tax revenues to federal, state and local governments. Not to mention the $65 million or so that is donated as grants each year by the members. They even have a program called 'Buy Iowa First' set up to promote local vendors allowing them to be competitive with out of state businesses. 2015 saw Iowa's casinos spend $289 million in merchandise and services locally. A large chunk of change for sure. So maybe the old stereotypes can be broken and attitudes can be brought into the 21st century. Go Iowa lead the way and sing it from the rooftops. It's so very nice to find a place where you are not made to feel a bit shady for enjoying casino games.
1
.
$800

BONUS
150+

GAMES
50+

MOBILE
97.11%

PAYOUT
2
.
$2,500

BONUS
150+

GAMES
50+

MOBILE
97.11%

PAYOUT
3
.
$8,888

BONUS
120+

GAMES
25+

MOBILE
98.61%

PAYOUT
4
.
$1,000

BONUS
200+

GAMES
50+

MOBILE
97.84%

PAYOUT
Regulated Internet Casinos Can't Be Far Away
As it stands at the moment there are no Iowa state regulated online casinos. Considering the attitude to gambling revenue the state has it will be sooner rather than later. To quote Senator Danielson 'To do nothing is not a prudent choice, Iowans are not naïve. They realize billions of dollars are leaking out of the state to unregulated offshore gambling websites'. Well if there's one thing that motivates legislators it's the greenback leaving the country. The fact that there are so many well established and known venues in Iowa it would take very little effort for them to set up an online presence. It's a little hard to fathom why this has not happened yet. Iowa has such a great record for the last 25 years it has stalled a bit when it comes to the internet.
So Is It Legal To Play At An Online Casino
The better question would be does state law prohibit online gambling. Well in a word no. Federal Law well that's a whole different can of worms. It does not state anywhere in Iowa's statutes that you can't play for money at an online casino. You may get yourself into some hot water with the IRS if you win big. But you are not likely to get any kind of comeback from the authorities in Iowa. You do however need to use that good sense Iowans are renowned for. Due to the lack of state regulation and the general state of affairs in the U.S.A. a number of shady operators are targeting U.S. customers. There is absolutely no comeback for a U.S citizen is cases of fraud. Local authorities will do nothing to help.
Safe If You're Smart
That does not mean that there are no safe options however. The online casino industry is very well established in the rest of the world and regulatory bodies do a good job of keeping casinos honest. Most U.S facing sites are regulated by the tribal authority of the Kahnnawake Territories. This Canada based body has rapidly gained respect for its vetting and enforcement policies. Other reputable offices are Malta, Gibraltar, Isle of Man and Alderney. Avoid any that have no certification also avoid Curacao as they issue business licenses to any and all who pay. If enough people say the same thing about a brand there is usually something to it, so read forums regularly. Last piece of advice stick with established names. Crooks don't stick around long. Good luck.