Indiana Casinos Took A Different Route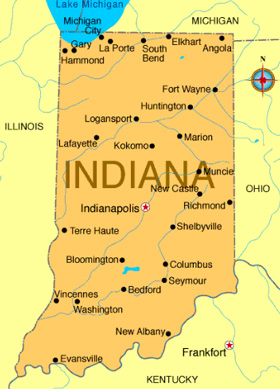 Despite being the Land of the Indians, legal gambling in the state of Indiana took a circuitous way around. Most states where gambling is permitted have gone the route of native tribes setting up casinos on reservation land. These are usually the only casinos and strict agreements between state and tribe prohibit other casinos from operating. Indiana have gone about it in a completely different way. Like a couple of other states Indiana have licensed river boat casinos and a couple of racetracks with slots. Well with a nickname like the Hoosiers, Indiana would have to be different and so they are. The early days of mob run speakeasies and illicit casino riverboats put a black mark on gambling in Indiana. This did not stop the passion for a wager however.
Floating Palaces With Roulette Wheels
Long gone are the floating nightmares of the gangster age. Rigged wheels and marked decks have been consigned to history. Now if you enter one of the top end river boat casinos you will feel like a movie star. The Horseshoe Southern Indiana, for example is a four story hotel and casino with over 2000 slots. A member of the Jack Binion stable it has its fans and detractors. There's no denying it though it's impressive for a river boat. You've got a choice of ten floating venues at which you can gamble to your heart's content.
Land-based Casinos Are Now Allowed Too
2015 saw legislation get though the state house allowing a land-based casino. It was a struggle mind you with the Governor refusing to sign off on the bill. He did not block it however and a new resort was built. The French Lick resort takes liberties with the idea of a river boat. Maybe the owners believed that residents were so used to gambling onboard that they had to make the building this way, who knows? The casino is land locked but on a pond and is shaped like a boat. Albeit a massive one. The legislation allows all river boat casinos to build land based venues next to their moorings. In affect it will be making them all land-based. You can play all of your favorite casino games there are no silly restrictions in place with high and low stakes available across all the venues. This of course has opened the door for the local tribe to ask for a compact with the state to run a casino on tribal land. The Pokagon Band of Potawatomi Indians have signed a compact with the state to open a resort on tribal lands in South Bend. They compact has state approval and at this time is awaiting Federal approval.
1
.
$800

BONUS
150+

GAMES
50+

MOBILE
97.11%

PAYOUT
2
.
$2,500

BONUS
150+

GAMES
50+

MOBILE
97.11%

PAYOUT
3
.
$8,888

BONUS
120+

GAMES
25+

MOBILE
98.61%

PAYOUT
4
.
$1,000

BONUS
200+

GAMES
50+

MOBILE
97.84%

PAYOUT
A Progressive Attitude It Seems – Not So Fast The Internet Has Been Hobbled
The state of Indiana in its wisdom has introduced a bill into law specifically prohibiting internet gambling. Only two other states have this kind of legislation in their statutes. Most states have left it well alone allowing the possibility to regulate in the future. By enacting this law it makes it very difficult for the process to move forward and it seems that the internet is not a welcome form of gambling in Indiana. There are even some very specific clauses relating to sites that provide gambling to state residents. Indiana as a state has a history of prosecuting both the organizers and the players where illegal gambling is concerned. This is unusual as most states turn a blind eye to the gamblers. The law also allows service providers to withhold internet access. This may seem a little bit of scare mongering but this law does open the door for a lot of prosecutions.
So Far Its Not Stopped The Online Casinos
There are many online casinos that flout this law and accept residents from Indiana. Off-shore brands escape extradition because where they are based it's not a crime. But it is a crime in Indiana and if any execs landed in the state they would be arrested. There may be a good chance that online casinos will be blocked in future. There's a very good chance that funds would be frozen. It's a risk that many are still willing to take however and internet gambling is very popular in Indiana. It seems very strange that the state legislature would willingly criminalize a portion of its residents for doing something that is otherwise legal within the state boundaries. It will be an uphill struggle to change this legislation and it looks like regulation for online casinos is of the table in Indiana. But don't give up lobby your house there isn't a law that can't be repealed. It may be a struggle but if you want to be able to sit in your own home and have a harmless game of blackjack you'll have to fight.