The Land Of Lincoln And The Mississippi River Boat Casino A Perfect Match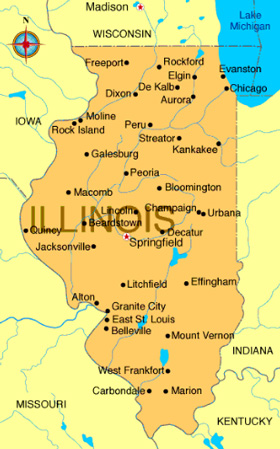 If you are lucky enough to live in the Prairie State you know that your state has some of the most forgiving laws relating to gambling. Unlike a lot of states there are no tribal casinos in Illinois you have instead the good old river boat casino. Steeped in history the Mississippi casino cruises started life way back when. They flourished during the 1840's and 50's when the Eastern States started to gain a social conscience and demonized gambling. This attitude unfortunately spread and the river boats were lost for some time. 1990 saw their legitimacy return probably in response to neighboring Iowa's decision to return to the river boat casino cruise. State legislatures could see the tax dollars flowing out of state if they did nothing so bingo, the Mississippi cruise was back on.
10 Lucky Boats For A Day Of Blackjack On The Big Muddy
Unlike a lot of tribal casinos in other states the river boat casinos are real casinos. All of the usual table games are readily available along with old school card games, as well as a few less known like the Klondike table. 'But I get sick crossing a bridge' I hear you cry. Well that may have been a problem when the legislation was brought in. The river boats had to actually cruise. But an amendment to the statute means that the boats can now be permanently moored. So if you are a born land lubber and are sick at the mere mention of a cruise, no more worries. Some of the more prestigious boats would need hurricane to budge them.
Video Gaming Machines – Brings Illinois One Step Closer
The state law makers have also allowed counties the right to choose whether they allow video gaming machines in public business. This law had a difficult birth it was passed in 2009 but licenses were not issued until 2012. The Governor of Illinois has been a long standing opponent of gambling and has put up blocks consistently. However this has not stopped progress and the passing of this bill draws Illinois ever closer to a free state as far as gambling is concerned. New legislation offering lottery tickets online and betting on horse races via the internet all bode well for the future.
1
.
$800

BONUS
150+

GAMES
50+

MOBILE
97.11%

PAYOUT
2
.
$2,500

BONUS
150+

GAMES
50+

MOBILE
97.11%

PAYOUT
3
.
$8,888

BONUS
120+

GAMES
25+

MOBILE
98.61%

PAYOUT
4
.
$1,000

BONUS
200+

GAMES
50+

MOBILE
97.84%

PAYOUT
Next The Internet
The legal blocks are no longer in place to stop Illinois from becoming the fourth state to regulate online gambling. The issue is purely political. Once again the state Governor is blocking the progress a lot of measures are being vetoed and the issue is stagnating. So as it stands it is still illegal to visit an online casino if you are in the state of Illinois. It can't be long however before even the most hardline conservative realizes the tax dollars that can be drawn in. Illinois is as cash strapped as most states and the increased revenue from internet regulation would be a welcome boost to the state budget. There will of course be the usual lobbying from the racetrack and maybe the river boat casinos. They won't want to lose any piece of the pie. But the opportunity for existing brands to expand into the internet must be tempting. As usual your fate is in the hands of your elected officials.
You Could Always Log In Anyway
Despite the legal standing there seems to be no reported prosecution of any one gambling with an online casino in the state of Illinois. That doesn't mean you won't be but it does seem unlikely. There are literally hundreds of online casinos waiting to sign up residents of Illinois. Caution must be taken if you wish to play online however. Due to the lack of state regulatory bodies as a citizen of Illinois you have no local authority to go to in the case of fraudulent activity. U.S. customers have been targeted by unscrupulous operators cashing in on the lack of regulation. This does not mean that all brands are suspect however. A reputable casino will be licensed by one of the governing bodies the rest of the world use. Look for certification by the Kahnnawake Territories based in Canada they are fast gaining a solid reputation for enforcement. Also the island countries of Malta and the Isle of Man have a long standing in the industry. Gibraltar and Alderney are also rated well. An online casino that has been trading continuously for over 5 years will likely be a good place to wager. Dodgy casinos just don't stick around in this fast paced industry. Forums and reviews tend to keep casinos on the straight and narrow so its good practice to read them regularly. But when all is said and done it is illegal so do so at your own risk.