Sun, Surf And A Cheeky Flutter? – Not In The Aloha State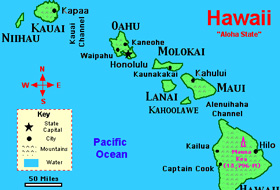 So you've booked your flights for that holiday of lifetime. You can't wait for cocktails on the beach, fresh seafood for dinner and few games of blackjack after. Well you'd be out of luck on the blackjack unless you want to frequent an illicit gambling den. Hawaii is one of only two U.S. states where an absolute ban on any form of gambling is in place. The other state? Utah. We all know why that's the case there but why in Hawaii? The state as a whole may not be bankrupt, but it's short on cash for sure. It is being run on a bootstrap budget and has for years. The problem is image. Hawaiians like to think of their islands as paradise, and rightly so. They don't however think that gambling fits that image at all. Native Hawaiians already think the tourist trade distorts their culture, they fear that turning Hawaii into a resort like Las Vegas or Reno could ruin everything.
So Is Hawaii A Gamble Free Zone?
No not in any way shape or form. There seems to as many gamblers per capita as any other state. Hawaiians love a gamble you only have to see how many fly to Vegas every year to know that. It's estimated that around half a million trips are taken each year by Hawaiians to Las Vegas. Let's face it nobody goes to Nevada for its sand! Not everybody can afford to fly to Nevada to scratch their gambling itch so Hawaii has a thriving black market gambling industry. Millions of dollars every year are placed on wagers in backstreet card rooms, dice parlors, and the nasty habit of cock fighting. Why oh why are the state government and the people who elect them so blind? Policing an illicit business such as gambling is virtually impossible. Alcohol prohibition didn't work and neither is gambling prohibition. In fact a thriving criminal underground brings in millions of untaxed dollars each year. With it the associated violence and spin off crimes. If legal forms of gambling where allowed maybe the despicable habit of cock-fighting could be clamped down on. The tax revenue available from even state lottery and bingo would aid a failing economy. If the image of Hawaii is so important why not allow casino cruises? Yup that's right Hawaii even has legislation banning cruises from offering gambling. If the cruise starts or finishes in the state not even a bingo game is allowed. I mean really! Come on Hawaii even Georgia has casino cruises.
1
.
$800

BONUS
150+

GAMES
50+

MOBILE
97.11%

PAYOUT
2
.
$2,500

BONUS
150+

GAMES
50+

MOBILE
97.11%

PAYOUT
3
.
$8,888

BONUS
120+

GAMES
25+

MOBILE
98.61%

PAYOUT
4
.
$1,000

BONUS
200+

GAMES
50+

MOBILE
97.84%

PAYOUT
What About Internet Gambling?
Well not yet. Every year in Hawaii a gambling bill is proposed including allowing internet gambling. One year there was a total of 16 separate bills. So far every year they get shot down in flames. In fact more money gets funneled to law enforcement to tackle internet gambling. The problem is once again people want to gamble. Off-shore online casinos happily take Hawaiians as customers despite the legality issues. If you are tempted to go this route to have a few hands of blackjack remember it is illegal and you could face prosecution. Although the actual act of gambling is only a misdemeanor, you could face confiscation of assets. Because of the lack of U.S. regulation a few rogue operators can take advantage. So if you must play, make sure of the legitimacy of the online casino before you commit. There are a number of ways to validate your choice. Firstly longevity, if an online casino has been in business unchanged for over 5 years it's a safe bet they are trustworthy. If they have 10 years under their belt they will be one of the best. The market is so competitive that bad ones just don't last. Check the forums if any one brand gets too much bad press there is probably something in it. An online casino regulated by the government of Curacao formally of the Dutch Antilles is likely to be sham. Licenses issued from here are not worth a second thought. Most online casinos that accept U.S customers are regulated by the Kahnnawake Territories, they have a good reputation. Malta, Gibraltar, the Isle of Man and Alderney are all governing bodies that have strict rules and enforcement policies.
What's Next For Hawaii?
Who knows? More bills will be introduced and they will probably fail. Native Hawaiians have stated that legalized gambling will take away what makes Hawaii unique. The irony is that there was a healthy tradition of betting on old Hawaiian sports. Until that is, U.S Christian missionaries deemed Hawaiian pastimes to be inferior! So Hawaiians it's up to you if you want to be able to play casino games in your home state lobby your legislature. The land of the free remember.