Gambling In Georgia – Only If You Like Bingo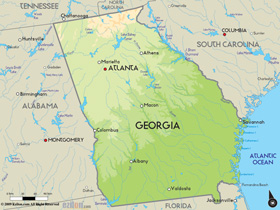 There are only three ways you can legally gamble in the state of Georgia. The state lottery, raffles and bingo. Even the bingo statute is one of the most restrictive in the entire U.S. Run as fund raisers for certain non-profit organizations and a very low prize limit is set per session/week. The 'Peach State' is no peach when it comes to having a harmless flutter. The ultra-conservative state legislature has explicitly banded all forms of commercial gambling. Even if there was a federally recognized native tribe left, there would not even be tribal casinos allowed on reservations. There are no card rooms, casinos, there's not even a horse racing track (although that may change soon). Georgia is no friend to the gambler.
Take A Cruise Or Cross State Lines – It's The Only Way
If you are a resident of Georgia and want to play casino games without fear of prosecution you have to travel. Cross into neighboring states and you can visit plenty of tribal casinos. Quite a journey for most and not a viable option if you like to gamble regularly. Alternatively you could take a trip to either Brunswick or Savannah ports and take a cruise. Two cruise line companies offer casino cruises that will take you out of U.S. territorial waters. The minute the ship crosses the demarcation line the tables are buzzing. This form of casino has long been the only safe way to gamble for many that live in coastal states. It's not as expensive as you would expect either usually dinner is included in the price as well. It's a great day out if you don't get seasick but when all is said done you have go on a cruise! While modern ships are very well built and navigation equipment is usually spot on, things happen at sea. Take the Escapade out of Savannah, in 2014 it ran aground on a sand bar just of the coast and it passengers were stuck there all night. Not much fun.
1
.
$800

BONUS
150+

GAMES
50+

MOBILE
97.11%

PAYOUT
2
.
$2,500

BONUS
150+

GAMES
50+

MOBILE
97.11%

PAYOUT
3
.
$8,888

BONUS
120+

GAMES
25+

MOBILE
98.61%

PAYOUT
4
.
$1,000

BONUS
200+

GAMES
50+

MOBILE
97.84%

PAYOUT
What About The Internet?
Well you can gamble on the internet if you wish, but you will be breaking the law. Back in 2011 Governor Nathan Deal rolled out a law enforcement initiative to crack down on internet gambling parlors. Deal stated 'today we are coming together to send a clear message to the illegal gaming industry, and to concerned communities throughout Georgia: our state law prohibits gambling. The code is black and white on this issue. Though some have sought to further their own interests by spreading the impression that the thwarting of these laws would be winked at, we are here to reassure Georgians that we will prosecute anyone skirting the law in this area." This hoo-ha all surrounds internet cafes that sprang up all over the state that were hosting gaming sessions with cash prizes. Ok you say that is not me in my own home. No true but, the scary statement Governor Deal made was 'I am calling on GBI Director Vernon Keenan, Attorney General Sam Olens, the District Attorneys' Association and law enforcement to use their jurisdiction and power to enforce Georgia's gaming laws to the fullest extent' While it's true resources are not likely to be directed at the playing public in their own homes, it does not bode well.
Of Course That's Not Stopped Offshore Online Casinos
There are hundreds of online brands offering casino games to residents of Georgia. Many off the big names don't want to run the risk of prosecution but that doesn't mean there isn't any trustworthy ones left. Just be very careful when choosing which site if you must go online. Look for brands regulated by the Kahnnawake Territories, Gibraltar, the Isle of Man or Malta. Theses governing bodies all have a good track record of keeping online casinos playing a straight game. You can safely bet on a brand that has been in business for 10 years as stayers in this game have to be legit. Just be aware that your state authorities hate gambling in all forms.
So Is That It For Georgia?
Well maybe not. There is a vote in November 2016 on whether to allow Las Vegas style casinos in the state. There is interest in the legislature to find ways to increase tax revenue and allow up to six casino across the state. Both the Senate and the House would need to be in a two-thirds majority for the bill to pass. So all you Georgia gamblers that are fed up with being criminalized lobby like you have never before. The only way you will be safe from persecution is to get your laws changed. A harmless game of roulette is just that harmless!