The Sunshine State Has Plenty Of Gamble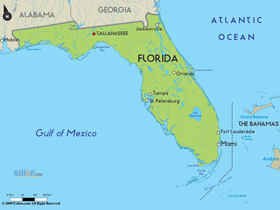 If you are looking to find a roulette game or play a few hands of blackjack then Florida has several tribal casinos for you to choose from. The Seminole Tribe has taken full advantage of the federal legislation it helped bring about and runs 7 casinos in the state of Florida. The Miccosukee tribe have one Class II casino. A total revenue estimated at 2.5 billion dollars per year puts Florida third highest in the U.S. Twenty years of protracted legal arguments helped bring about the Indian Gaming Regulatory Act 1988. The Seminole Tribe went from near extinction to one of the most powerful conglomerates in Florida. All in the space of one hundred years thanks to gambling. Starting off small and exploiting the change in the law allowing bingo in 1979 the tribe soon flourished. Before long bingo converted to video lottery terminals that for all intense and purpose where Vegas style slots. Then the expansion just took off with land purchases adding to reservation lands one of which in Hillsborough County is home to the huge Hard Rock Hotel and Casino. The tribal casinos helped convince voters in two counties that they wanted Class III Vegas style slots outside of tribal land. 2004 saw approval for this and so Miami Dade and Broward counties got their slots. This in turn allowed further concessions for the tribal casinos to include more games in their stable.
Is Florida Set To Be The Next Fully Legal Gambling State?
Not likely I'm afraid a legal wrangling is in process, currently arguing for more Class III slots across the state. It's revolving around the Gretna racetrack which runs poker rooms and wants to expand with slots. It seems to all be about wording of the law and that the 2004 vote allowed for counties to make their own mind up. But state legislators are saying this is not what the people of Florida want. It is not likely to succeed as it would allow the Seminole tribe to stop making payments because of the deal they have. Despite the image of Florida being one of a holiday state, liberal in its attitude with the likes of spring break happening, it's a very conservative state. There is a lot of opposition to gambling in any form and a Las Vegas style resort is not going to happen. One powerful lobbyer comes in the form of Walt Disney World, they have been harsh critics of all gambling concessions given. Another reason why it's not likely to change anytime soon is the day cruise. Casino cruise ships are nothing new and are in no way restricted to Florida. In fact pretty much anywhere with a coastline and either international waters or another countries waters close by has them. A quick day trip out of U.S territorial waters and the casinos fire up. This is big business and once again a powerful lobbying group that likes the status quo.
1
.
$800

BONUS
150+

GAMES
50+

MOBILE
97.11%

PAYOUT
2
.
$2,500

BONUS
150+

GAMES
50+

MOBILE
97.11%

PAYOUT
3
.
$8,888

BONUS
120+

GAMES
25+

MOBILE
98.61%

PAYOUT
4
.
$1,000

BONUS
200+

GAMES
50+

MOBILE
97.84%

PAYOUT
Internet Gambling Has No Hope Yet
This all bring us on to the issue of internet casinos. There has been some legislation in recent years surrounding internet café casinos. This piece of legislation goes after online gambling specifically and a total ban is in place. A section of the bill seems to have made any device that can be used for illegal gambling actually illegal too. So your phone, tablet, PC, laptop all could be considered contraband. It beggars the question of enforcement. Your browsing history could be used against you for sure. Florida has some pretty harsh penalties in place for illicit gambling. The thing is this new piece of legislation looks like the authorities may well be gunning for internet gamblers. Most people believe they are safe and anonymous online so continue to gamble freely. This however is just not the case VPN's proxy servers etc. just encrypt data the origin can still be traced. If law enforcement starts to actively pursue those who gamble online it's not actually that hard to catch them.
Plenty Of Offshore Casinos Will Take Your Cash
So despite all that there are hundreds of offshore online casinos that will take Floridians as customers. Beware of any casino that has not been running very long, longevity in this business is a great indicator of trust. Crooks just don't stick around. If you must flout the law find a casino that has a reputable license from either the Kahnnawake Territories, Malta, Gibraltar, or the Isle of Man. All of these regulatory boards have good records with complaints procedures in place and strict rules and regs. Read forums and reviews take into account that if a casino is on every forum with the same issue complained about there's probably something to it. Bottom line is be careful.