Delaware The First State More Than Once – Online Casinos Are Legal Here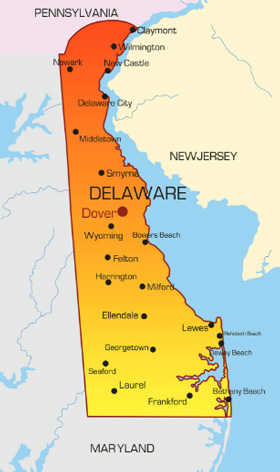 Delaware may be one of the smallest states but it has proved to be a front runner in many ways. The first state to ratify the Constitution of the United States is a well-known fact. Hence the moniker 'The First State'. If you are an avid gambler you will also know that on top of three very good land-based casinos, Delaware boasts the first regulated online casinos in the country. This was achieved by taking advantage of the exceptions in the 2006 Federal Law the Unlawful Internet Gambling Act. Pragmatism where gambling is concerned has long been the attitude in the state of Delaware. Out of state visitors have been attracted to the huge race track and casino sites for many years. Delaware Park, Dover Downs and Harrington Raceway and Casino have been contributing tax dollars to the state for some time now. Pragmatic they may be, realizing people want to gamble, but they also have a responsible attitude as well. Unlike other states it's illegal for a casino in Delaware to serve free alcohol to anyone playing their games. So you're not going to be getting sloshed and chucking your money away.
Only Three But A Good Start
Competition is not a strong point when it comes to internet casinos in Delaware. With only three casinos regulated it falls far short of the choices on offer in New Jersey. However the three companies that run these efforts have been in business for a very long time. All of the usual games can be played and there are still promos and bonuses to be had. The websites are slick and well set up running top end software with intuitive gameplay and easy navigation. Dover Downs had some issues but they seem to have sorted them. The lack of competition however may well tell in the long run. There are a lot of mixed reviews for both the land-based and the online casinos. Most of the negative reviews can be put down to sore losers but we all know what can happen when just a few brands control the market. The test will be to see if any other brands can enter the fray in the near future. It's early days yet and Delaware has moved quite fast in this area so far let's hope they keep the momentum going. Because if there are only three state regulated internet casinos to choose from, you can bet that people will continue to use offshore brands.
1
.
$800

BONUS
150+

GAMES
50+

MOBILE
97.11%

PAYOUT
2
.
$2,500

BONUS
150+

GAMES
50+

MOBILE
97.11%

PAYOUT
3
.
$8,888

BONUS
120+

GAMES
25+

MOBILE
98.61%

PAYOUT
4
.
$1,000

BONUS
200+

GAMES
50+

MOBILE
97.84%

PAYOUT
A Brief History Of Gambling In Delaware
Delaware has had a racetrack since 1760 a good few years before it was even a state and although no official gambling was sanctioned it had to be happening. Then the puritan years came along and gambling went deep underground. The great depression saw many states look into legalizing some form of gambling and Delaware was no exception. 1935 saw the first licenses issued by the Delaware Racing Commission, for on track betting and pari-mutuel betting. 1937 saw Delaware Park open and thrive with continued success. 1957 saw bingo for charitable income become regulated. The regulating authority for gambling changed names a couple of times and settled on the rather ambiguous name of the 'Division of Business and Professional Regulation in 1986. The 90's saw video lottery machines and then the big one in 2009 sports betting and casino table games were finally legalized. 2013 was the year that licenses were finally issued for three online casinos. The following year saw an interstate deal with Nevada to share players for online poker sites.
What's Next For The Gambling Public Of Delaware?
Well there will probably another interstate deal at some point with New Jersey. These deals allow for pooling of players for poker tourneys making the prizes much more attractive. The biggest question is whether more companies will set up online casinos in state. The population of Delaware is relatively small and the effort involved may not seem worth it for other brands to break into the market. The fact that there are three established casinos with longstanding may mean that it will not happen. The problem with only having three to choose from and the states insistence of having tracking software (to confirm residence) could well mean many just going to off shore sites. Then it could be a case of whether people will be pursued and prosecuted now that tax revenue would be at risk. It is a serious thought and is a question only time will tell the answer to. It would be a great shame if Delaware as a state decides to prosecute online casino players not a first to be proud off.