Connecticut Casinos Are Up With The Best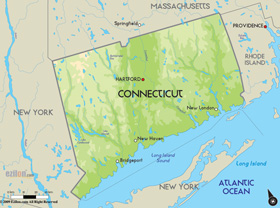 The gambling scene in Connecticut is thriving at two locations, if only it had more to offer though. Connecticut is yet another example of a confusing attitude to casinos and gambling in general. The two tribal casinos that serve the state are top end. Take the Foxwoods Resort Casino for example the venue has 6 casinos within the grounds with 350 000 square feet of casino floor. Four hotels serve the resort and enough restaurants to cater for any taste. The Mohegan Sun Casino is almost as impressive. These venues stack up against the best in the world, but why only two? And why so high end? For the average punters a visit to either resort would be a once in a lifetime thing. Connecticut's statute is another example of slightly two faced legislation. It's ok for tribal casinos, albeit only two, but it's not ok for anyone else? There are currently law suites in progress trying to stop a third being built due to some argument around competition. But this would be another tribal resort. Why do states do this? Why are all other forms of gambling restricted? It's very perplexing. Poker is legally played at the two casinos and social games can be played as long as nobody profits from running the game. But no other venue is allowed to host games even if they tried to get licensed they couldn't because it's in the statute. Crazy.
What About The Internet?
Well it's the same thing here to. This is a quote from the official website. 'The State of Connecticut and the Department of Consumer Protection do not authorize, license, permit, or regulate in any manner any Internet gambling in any form. Under General Statutes of Connecticut Section 53-278a(2) any gambling activity in Connecticut is illegal unless specifically authorized by law.' So no ambiguity there unlike some states there's no fudging or loopholes. Point blank illegal. It doesn't look like there will be any movement on it either. It makes no sense to have two huge casino resorts that pull in large numbers of tourists but not allow the rank and file to gamble in their own homes. Federal Law is in place to allow the state to license internet casinos and keep the business in state. The tax dollars that are being missed out on are huge. Wake up Connecticut your rules are only hurting your own residents.
1
.
$800

BONUS
150+

GAMES
50+

MOBILE
97.11%

PAYOUT
2
.
$2,500

BONUS
150+

GAMES
50+

MOBILE
97.11%

PAYOUT
3
.
$8,888

BONUS
120+

GAMES
25+

MOBILE
98.61%

PAYOUT
4
.
$1,000

BONUS
200+

GAMES
50+

MOBILE
97.84%

PAYOUT
Let's Face It Everybody Does It Anyway
OK so it's against the law. Yes be careful if wish to play at any online casino if you live in the Constitution State. That name sticks a little considering, but hey ho. The fact of the matter is, reportedly nobody has ever been prosecuted for playing at an online casino. That doesn't mean they wouldn't but it is unlikely as things stand. Unless of course things get really screwy and uber conservative. That hasn't stopped the Federal Government from trying to make it as hard as possible for you to play. The Unlawful Internet Gambling Enforcement Act was designed to do just that by forcing banks to stop processing transactions with internet gambling sites. All this did however was to force out the most respectable sites and create space for less reputable firms. Suddenly there where hundreds of third party financial companies shifting your money all over the place hiding it from the federal government. Not ideal when it comes to your hard earned.
Not All Doom And Gloom Though
This hasn't made it impossible to trust online casinos however. There are plenty that know how to get around things without out being crooks. It just takes a bit more savvy on the part of the player when choosing where to play. Don't play with any one that has less than 5 years' operating as an online casino. If possible go for one that has 10 years under their belt. The simple fact of the matter is in this very competitive market crooks just don't go the distance. 10 years means happy customers. Because the U.S. has no national regulatory system in place you have no comeback with local authorities in case of fraud. Make sure the online casino you choose is registered with one of the reputable countries boards. Most that are U.S. facing are regulated by the tribal Kahnnawake Territories board. Some may be covered by Malta, Gibraltar or the Isle of Man. All of which have excellent records and strict criterion for issuing licenses. Of course you want to be able to deposit and withdraw easily most have options that will cover what you need. Ask the customer service department if something is unclear. If you don't like the answer look elsewhere. There is a huge choice even for the U.S. citizen.