Casinos And Colorado Go Hand In Hand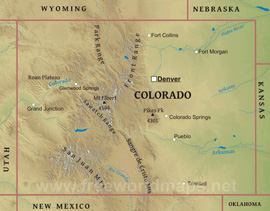 The great state of Colorado has long been a place of pragmatism and laws leaning toward the liberal side of life. Its attitude to casinos is no different while they may be restricted to three areas there are at present 40 venues. Yep that's right two cities and one county and forty casinos. The two cities being Central and Black Hawk and the county of Cripple Creek. There are also two casinos run by the Ute Mountain Tribe and the Southern Ute Indian tribe. Colorado's Constitution was amended by a popular vote in 1992 to allow limited gaming in three locations in Colorado. This section of law has been amended three times since its introduction the last time being in 2008. Amendment 50 allowed casinos to up the maximum bet from a paltry $5 to $100, allow craps and roulette and change opening times from 8am-2am to be able to remain open 24 hours a day. The additional state revenue from this increase in limits additional games and opening hours is channeled towards community colleges and the gaming towns and cities as written in the amendment.
Unfortunately Online Gambling Is Not Covered
Online gambling in the U.S. has been a bone of contention for a while now. There has been a lot of conflicting information flying around at a federal level. The F.B.I. and the D.O.J have even issued completely different views on interpreting current Federal Law. The Unlawful Internet Gambling Enforcement Act of 2006 is directed toward restricting banking institutions, but there are exceptions allowing state regulation. It's all very murky. A lot of states do nothing to clarify the situation. There seems to have been no conviction of a player reported anywhere in the country. So where do Coloradans stand. Well in true pragmatic fashion in 2013 the Director of the Division of Gaming of the Colorado Department of Revenue asked the question. Laura L Manning requested of the Attorney General a formal legal opinion regarding the permissibility of gambling via the internet under Colorado law. Several straight forward questions were asked and answers given. The short of it all is no online gambling cannot be considered limited gaming as defined in article XVIII, section 9 of the Colorado Constitution. It would take an amendment for it to be legal.
1
.
$800

BONUS
150+

GAMES
50+

MOBILE
97.11%

PAYOUT
2
.
$2,500

BONUS
150+

GAMES
50+

MOBILE
97.11%

PAYOUT
3
.
$8,888

BONUS
120+

GAMES
25+

MOBILE
98.61%

PAYOUT
4
.
$1,000

BONUS
200+

GAMES
50+

MOBILE
97.84%

PAYOUT
So Is There Likely To Be An Amendment?
Currently it doesn't look like an amendment is on the cards in Colorado anytime soon. That being said Colorado has such a vibrant legislature that who knows what's round the corner. Changing laws takes time and effort, but history has shown Colorado to be a state that listens carefully to what its residents want. So if enough people want authorized internet gambling it will come. Just the fact that the questions have been officially asked points toward the idea that people want this to happen. Colorado leads the way with liberal laws so watch this space as they say. There is so much tax revenue to be gained it's a no brainer really.
In The Mean Time
Well if you must have a spin on the roulette tables in the comfort of your own home be aware it is illegal. That doesn't stop millions of players across the U.S. every day from doing just that though. Enforcement of the law surrounding online casinos is non-existent when it comes to the player. There have been a few high profile indictments where poker is concerned and a lot of major brands in the casino world have walked away from the U.S. market. The competition is so great however that many hundreds of online casinos rushed in to fill the gap. There are enough legitimate casino to satisfy every taste. There are casinos that offer exclusive bonuses to U.S. citizens so if you are a Coloradan that wants to play you can get some juicy welcome deals. Be very aware that there are many casinos that will try to rip you off. Because of the legal standpoint you have no local backup in a case of fraudulent behavior by an online casino. This makes it doubly important for you to trust the brand you wish to open an account with. There is no national regulatory board in America for online casinos so you will need to look to other countries who license. Avoid like the plague any casino that is licensed by the island of Curacao formally part of the Dutch Antilles. The licenses issued are merely business licenses and the island has no regulatory powers at all. Most reputable U.S. facing online casinos are regulated by the Kahnnawake Territories. Some may be Malta, Gibraltar, the Isle of Man and Alderney all have a good reputation and strict rules. You are a sensible bunch in Colorado you know what to look for. Remember not to smoke to much of that recreational stuff when gambling!