Casinos And Arkansas Not A Match Made In Heaven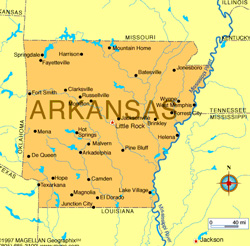 At the current time it is illegal to play any game of chance or hazard for money in the state of Arkansas. There is no ambiguity in the law it states it clearly. Some forms of skill related games can be played for money and charity gambling such as bingo and raffles are permitted along with the state run lottery. There are also two race tracks one dog and one horse where sports betting is allowed on the races. The penalties for breaking the gambling law is, wait for it, a minimum of $10 to a maximum of $25 fine. Yep that's right a max of 25 bucks! The law has not been amended since its introduction in 1967 and neither has the fine. Pretty pointless it would seem. There are no specific laws pertaining to internet gambling however the relevant authorities maintain current law covers this form of gambling also. So it seems that you would be breaking the law if you decided to play roulette online but if you happen to get prosecuted you would face the stiff penalty of a $25 fine. The cost of prosecution would far outweigh any fines gathered so it is unlikely that anybody is going to fall foul of this rather ridiculous law.
The Internet Gives Anonymity
It's safe to assume given the penalties for illicit gambling in the 'Natural State' that visiting an online casino will give you no trouble at all. Despite the restrictive federal banking laws and a few major indictments of online gambling houses there are still many online casinos willing to take US customers. Residents in the state of Arkansas will have no issues finding a reputable online casino at which to gamble. As long as you perform your due diligence when it comes to choosing you should have no problems. Just because your state doesn't regulate online casinos there are several respectable licensing boards that do. Avoid any that are registered with Curacao as they issue licenses to any and all. The Kahnnawake Territories cover most US facing online casinos and have a good reputation.
1
.
$800

BONUS
150+

GAMES
50+

MOBILE
97.11%

PAYOUT
2
.
$2,500

BONUS
150+

GAMES
50+

MOBILE
97.11%

PAYOUT
3
.
$8,888

BONUS
120+

GAMES
25+

MOBILE
98.61%

PAYOUT
4
.
$1,000

BONUS
200+

GAMES
50+

MOBILE
97.84%

PAYOUT
Not Always The Case Though
Arkansas was not always a gambling free zone however. The city of Hot Springs has a colorful history when it comes to gambling. Dating from just after the civil war up until 1967 a thriving casino industry was very much part of the local attractions along with tourism. The federally protected reserve saw some heated battles for control of the liquor and gambling over the years. One such battle gained national headlines in 1899 and was known as the famous Hot Springs Gunfight. Hot Springs had become a gambling mecca by the 1920's with 10 major casinos and a score of minor ones. The Mob had a vested interest in the industry and the amenities on offer were as good as any Las Vegas would have, at a time when Vegas was just a dust ball. A hangout for some very big names in the underworld, Hot Springs saw the likes of Al Capone, 'Lucky Luciano', 'Bugs' Moran and Frank Costello to name but a few, enjoy the relaxing atmosphere. The bubble burst however in 1947 when a grand jury indicted most of the major casino owners. This sounded the death knell for legal gambling in the state of Arkansas. Post war conservatism in the political ranks set about dismantling the industry and by 1967 the last gambling venue in Hot Springs was shut down. The loss of tax revenue for the state is vast. Las Vegas and Atlantic City generate billions of dollars and Hot Springs could have been up right there with them.
Is There Any Future For Gambling in Arkansas?
Maybe. Politicians in Arkansas are finally realizing how much money is going to casinos out of state. Arkansas has a long standing and rich tourist industry with thermal springs, parkland and beautiful natural history all bringing people in their millions. Some now want to add the casino experience to the list. A ballot effort called Arkansas Wins is looking to open three casinos in Washington, Boon and Miller counties. 85 000 signatures are required for the measure to be put on the ballot. It is by no means a sure thing. Conservative ideals are strong in Arkansas and many oppose the measure. If the ballot goes through and the state constitution is amended the wording of it suggests that online gambling would be included. This has to be a good thing as many state residents already gamble illegally online and the tax dollars generated by regulation of internet casinos would be a welcome boost to the state's coffers. It's up to you the voting public of Arkansas you can make it happen.