Arizona Takes Full Advantage Of The Indian Gaming Regulatory Act 1988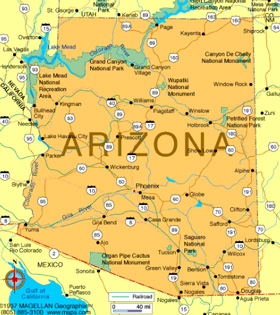 Being the home to a number of native tribes Arizona has a very healthy population of tribal casinos. At the last count there are 16 Arizona tribes operating 23 Class III casinos in the state with a further 5 leasing their rights to other tribes using transfer agreements. As a state Arizona has a good working relationship with the tribes and the Tribal-State compacts (agreements) seem to work well. Under the 1988 Federal Indian Gaming Regulatory Act states are required to work in good faith with native tribes that wish to enter into a compact for the purpose of Class III gaming. It's a shame more states don't try as hard as Arizona. The latest Tribal-State compacts came into play in 2003 between Arizona and 21 Tribes. The compact sets out the permitted games, technical standards for slots and video games. It allows state inspection, licensing and vetting of employees and vendor companies. It also sets a tax contribution of between 1-8% of revenue to local and state governments. Each compact is state and tribe specific and lasts for 10 years with a ten year renewal and a further three years added. All Tribal-State compacts that are negotiated are sent to the U.S. Department of the Interior for approval and when published in the Federal Register become effective forthwith.
Online Gambling Is Not Regulated In Arizona
The legal standing of online casinos is an area where things are a little fuzzy. There does not seem to be anything specifically written in state law regarding online gambling. So does that mean its legal? Not sure about that but nobody has ever been prosecuted for gambling in an online casino in the state of Arizona. State law firmly concentrates on land based tribal casinos. Because online casinos are not regulated by state authorities in Arizona, it is important to make sure that any casino you wish to play with is regulated by a reputable gambling authority. The ones with the best reputation are Malta. Gibraltar, Isle of Man, Alderney and the Kahnawake Territories. But due to the rather confusing legal situation in the US a lot of the reputable online casinos that accept US residents are only licensed by the Kahnawake Territories. Some of the world's best known casinos will not take U.S. residents full stop. Federal Law is not clear at all. States due have the right to regulate online casinos but off shore sites appear to be illegal for US customers. It is a very confusing situation and gambling with an off shore casino has to be considered carefully.
1
.
$800

BONUS
150+

GAMES
50+

MOBILE
97.11%

PAYOUT
2
.
$2,500

BONUS
150+

GAMES
50+

MOBILE
97.11%

PAYOUT
3
.
$8,888

BONUS
120+

GAMES
25+

MOBILE
98.61%

PAYOUT
4
.
$1,000

BONUS
200+

GAMES
50+

MOBILE
97.84%

PAYOUT
A Wealth Of Choice For Online Casinos
Despite some high profile prosecutions of gambling sites there is still a healthy market for online casinos in the U.S.A. Arizona as a state loves to have a gamble and many online casino brands happily accept players from the Grand Canyon State. Due to federal banking laws deposits and withdrawals from your casino account can be problematic at times but most of the top brands use third party companies to handle financial transactions. This is not ideal as the whole point of these companies is to muddy the water surrounding money transfers. When it comes to your money most people want clarity but blame the federal government for that one. The state of Arizona has a wealth of natural beauty and diversity so too with the available number of online casinos. There are literally too many to list. So the best advice is to do your own due diligence. See what other punters have to say in forums and check out review sites before committing. But as a rule of thumb start with online casinos that have been operating for more than 10 years. The online casino business is cut throat competitive. Any brand that lasts that long has to be a legitimate concern. Rogue casinos just don't last there are far too many good ones for the bad to survive long. If you love the idea of extra playing money there are many online casinos that offer bonuses purely to U.S. residents and some are very generous. Of course all bonuses have terms and conditions attached and should be read carefully.
The Future Looks Good For Online Gambling
The general feel in a lot of the States of the Union is that regulation is not far away. While some states vigorously oppose online gambling Arizona seems to be at worse ambivalent. It looks inevitable that Arizona will eventually regulate and license online casinos. There is a huge amount of tax dollars to be collected and seems to be a no brainer. Arizona has a liberal attitude to gambling judging by the number of tribal casinos operating in the state so it stands to reason that as more states regulate online casinos they will be one of them.