The Heart of Dixie A Great Place To Live – Not If You Want To Play Online Casino Games!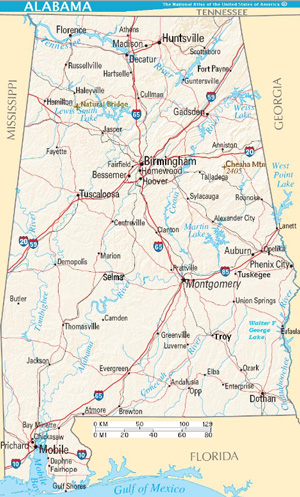 The Yellowhammer state has a long and colorful history. It also has a long and complicated constitution. In fact the longest in the US and possibly the world. Residents of Alabama will know too well the long winded and often archaic state laws. There are comprehensive laws surrounding gambling with specifics for gambling devices and premises. The penalties written into the state constitution are severe. If convicted of using a gambling device for example, 10 years in the state penitentiary and a $15 000 fine can be handed out. Ouch! The definition of a gambling device is a very loose one and a laptop could easily fall into the category should a state prosecutor wish it. While there are licensed casinos on tribal land within the borders of Alabama it is still illegal to gamble anywhere else including the internet as well.
Jail Time Is Possible But Unlikely
Although there are harsh penalties written into state law for gambling there are no laws specifically pertaining to the internet. There are however many that could be interpreted to cover internet use. The authorities however don't seem to actively pursue internet gamblers. Unless a complaint is made no action has been taken so far regarding internet gambling. The issue is very complicated across the USA with conflicting views muddying the water. Even the DOJ and the FBI have issued statements that contradict one another. So what does it mean for the Alabaman that wants to have a harmless flutter at an online casino? Do so at your own risk. While there have been no convictions so far, the law does read as if you could be looking at a stretch in the pen!
There's Not A Lot Of Choice To Gamble Legally In Alabama
Not that long ago there were many 'electronic bingo' halls across the state. The legal status of which were in constant review. A legal battle raged between the Attorney General Troy King and Governor Bob Riley over the task force that Riley set up to shut down the venues in 2010. The Supreme court of Alabama ruled once in favour of King and then later that year overturned its own ruling to favor Riley. The upshot was all of the bingo halls were deemed illegal and some proprietors prosecuted. This all excluded the tribal casinos run by the Poarch Creek Indian tribal organization. The loopholes in State and Federal Law allow casinos to be operated on tribal land. Many Native American tribes have taken advantage and more often than not are the only legal gambling venues available in a state. There are three such venues in Alabama.
1
.
$800

BONUS
150+

GAMES
50+

MOBILE
97.11%

PAYOUT
2
.
$2,500

BONUS
150+

GAMES
50+

MOBILE
97.11%

PAYOUT
3
.
$8,888

BONUS
120+

GAMES
25+

MOBILE
98.61%

PAYOUT
4
.
$1,000

BONUS
200+

GAMES
50+

MOBILE
97.84%

PAYOUT
Wind Creek Casino and Hotel Times Three
The three casino and hotel complexes are situated across Alabama. One in Montgomery, one in Wetumpka and one in Atmore. All three venues have seen extensive expansion over the years and boast large gaming floors, many luxurious rooms in the hotels with spas, theaters and restaurants. The venues are all multi-million dollars enterprises and are extremely successful. All that and yet they are not really casinos. There are no table games at any of these venue so in all honesty the term casino is a little bit oversold! In Britain they would be called amusement arcades. If you love slot machines you will be in heaven. The smallest of the three, Atmore, has 1500 machines so you could spend a while before playing them all. But if you are a roulette aficionado you are out of luck your closest legal venue would probably be in Nevada.
If You Want To Run The Risk There Are Plenty Of Online Brands
Despite some quite high profile legal actions against offshore gambling sites in the US you can still find online casinos taking customers. In fact there are hundreds. The issue is one of trustworthiness. Because there is no legal comeback for US residents in cases of fraudulent activity it makes for a risky venture. There are many rogue casinos online and choosing which one to play with requires research. Forums and reviews are the best place to start. A casino that get consistently bad reviews or negative comments should be avoided. As should any that have dubious licenses. The most respected authorities issuing said licenses are The Kahnawake Territories, Malta, Gibraltar, the Isle of Man and Alderney avoid any from Curacao they are a sham. The next biggest criteria is banking. The US federal laws quite clearly prohibit banks from carrying out transactions with online gambling sites. Third party financial companies circumvent this but it can be a pain trying to deposit and withdraw using methods the rest of the world take for granted. If you must have a gamble online take care it is illegal.